French (political) geography is a subject matter in which many students fall flat on. It's truly a shame when I talk to another French learner and share my experiences about where I've been only to witness a blank expression on their face… This article will cover the basics and even provide you with some quiz questions to better your knowledge of France.
France in the Grand Scheme
France is sometimes referred to as the Crossroads of Europe, the country's location often being the battlegrounds for many wars throughout history. While looking at France, you can also note that France has a large coastline – extending over 3,100 kilometers (which makes for some great vacationing). France is divided into 27 regions which I recommend every French learner should commit to memory. In addition, I recommend French learners to study up on the locations of the top 20 most populated French cities.
I didn't really understand where cities were until I actually went to them. Don't be like me. If you're talking to a French native and they mention Lille then at least you'll know where it is situated.
1 Paris (Ile-de-France) 2138551
2 Marseille (Provence-Alpes-Cote d'Azur) 794811
3 Lyon (Rhone-Alpes) 472317
4 Toulouse (Midi-Pyrenees) 433055
5 Nice (Provence-Alpes-Cote d'Azur) 338620
6 Nantes (Region Pays de la Loire) 277269
7 Strasbourg (Alsace) 274845
8 Montpellier (Languedoc-Roussillon) 248252
9 Bordeaux (Aquitaine) 231844
10 Lille (Nord-Pas-de-Calais) 228328
11 Rennes (Brittany) 209375
12 Reims (Champagne-Ardenne) 196565
13 Le Havre (Haute-Normandie) 185972
14 Saint-Etienne (Rhone-Alpes) 176280
15 Toulon (Provence-Alpes-Cote d'Azur) 168701
16 Angers (Region Pays de la Loire) 168279
17 Grenoble (Rhone-Alpes) 158552
18 Dijon (Bourgogne) 149782
19 Nimes (Languedoc-Roussillon) 148236
20 Aix-en-Provence (Provence-Alpes-Cote d'Azur) 146821
Click HERE to test your knowledge of these cities' locations.
**France's total population is around 65 million people. I wouldn't get caught up on the population numbers as much as the fact that a lot of people are situated in Paris, France. The population of a city is always changing so take these numbers with a grain of salt.
French Regions:
France is divided into 27 regions (22 on the mainland); these regions are equivalent to "states" in the United States of America (Corsica is also a French region however it is referred to as a "collective territory" by law). Each region offers a complete different flare to the country of France: the weather, the architecture, the cuisine, the accents, and the people vary from region to region. You truly haven't discovered France if you've only been to Paris, where the lifestyle is more face-paced and "rigid".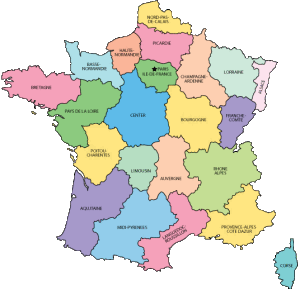 French Provinces
In fact, I bet most of you cannot complete the following quiz without getting more than 5 responses wrong (and without cheating)… Some regions like Bretagne, Normandy, and Alsace may already be drilled into your head, but certainly not all of them!
Click HERE to test your knowledge of theses Regions.
French Mountains / Rivers:
France has several different mountains and rivers throughout the country. If you are at all interested, take these quizzes and test your knowledge. You'd be surprised how many people don't know that part of the Alps is in France.
Click HERE to quiz your knowledge on French mountain regions.
Click HERE to test your knowledge of a few French rivers.
All in all, I hope that after taking these quizzes, you feel a little better with some geographical aspects of France. Share your comments below, no subscription required!
To return to our French Language learning section, click HERE.