Here are the top 10 French movies you must see at least once. All the movies are in French but subtitled versions exist if needed.
Let's kickstart our list with #10 and move down the line from there. Here is a YouTube playlist with all of the trailers, in order. Below this,  movie descriptions are presented mashing up my personal comments and the IMDB summary.
10. Le fabuleux destin d'Amélie Poulain ( IMDB: 8.5 )
This quirky movies follows the beloved Audrey Tautou as Amélie, a Parisian girl who finds love yet has difficulty getting along with others. The movie has a few unexpected twists and turns and is very popular with anglophones.
9. Le dîner de cons ( IMDB: 7.7 )
Each week, Pierre and his friends organize what is called as "un dîner de cons". Everyone brings the dumbest guy he could find as a guest. Pierre thinks his champ -François Pignon- will steal the show. However after a series of events, things don't wind up going as planned.
8. La Môme (La Vie en Rose) ( IMDB: 7.7 )
This film follows the difficult life of revered French singer, Edith Piaf. Although condensing such an incredible life in 140 minutes is difficult, what they do include is substantial. Lastly Marion Cotillard does an excellent job acting.
7. Entre les mûrs (The Class) ( IMDB: 7.5 )
Teacher and novelist François Bégaudeau plays a version of himself as he negotiates a year with his racially mixed students from a tough Parisian neighborhood.
6. À la folie… pas du tout ! (He Loves me, He loves me not) (IMDB: 7.3 )
"A young woman who is in love with a married doctor becomes dangerous when her attempts to persuade him to leave his wife are unsuccessful. However, when things are seen from his point of view, the real situation becomes clear."
You may not see the ending coming ;)

5. Au Revoir Les Enfants ( IMDB: 8.1 )
A French boarding school run by priests seems to be a haven from World War II until a new student arrives. He becomes the roommate of top student in his class. Rivals at first, the roommates form a bond and share a secret.
4. Les Choristes ( IMDB: 7.9 )
The new teacher at a troubled boys boarding school works to positively effect the students' lives through music. I've seen this movie several times, the story is touching and the music is very well done.
3. Persepolis ( IMDB: 8.0 )
Poignant coming-of-age story of a precocious and outspoken young Iranian girl that begins during the Islamic Revolution. Even though this is an animated film, the medium and message is not aimed for children.
2. Indigènes (Days of Glory) ( IMDB: 7.1 )
During WWII, four North African men enlist in the French army to liberate that country from Nazi oppression, and to fight French discrimination. Despite being "war" movie, there's a lot of humor because some of the main actors are comedians.
1. Les Intouchables ( IMDB: 8.6 )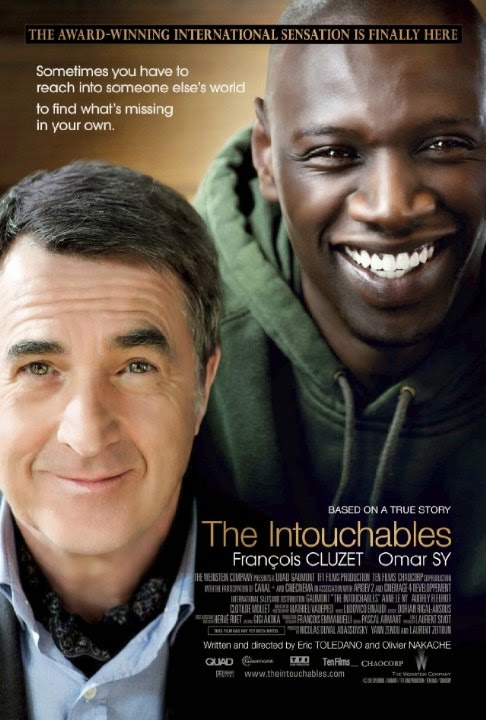 After he becomes a quadriplegic from a paragliding accident, an aristocrat hires a young man from the projects to be his caretaker.
I love this movie. The best part is that you'll look away from the screen for a second and find yourself smiling at the humor or a situation within. Let's not forget the beautifully arranged soundtrack by the Italian Ludovico Einaudi.