From the aromas of freshly baked baguettes in the morning to the twinkling lights of the Eiffel Tower at night, there is truly something to be said about the certain charm that Paris seems to exude in its every city street and corner.
During my times living and working in Paris, I've become one with the Parisian way of life. I know the metro system by heart. I wander certain streets with grave familiarity. I enjoyed the late-night rush as well as the morning commute.
If you are planning an upcoming trip to the City of Light and still not quite sure what to fill your days with – besides checking off the obvious attractions – consider the following options to help make your trip unforgettable! Here's how to spend your day in Paris and easily have a nice time.
Try the City's Best Hot Chocolate
To start your morning off just right, be sure to head to
Angelina Salon and Patisserie
located on Rue de Rivoli. Ask for the
chocolat chaud
and prepare yourself for indulging in the one of the most satisfying beverages the city has to offer its guests.
If you have seen the film or read the book 'Chocolat' then you may be already familiar with this gem and if not, it may just inspire you to do one or the other!
So, grab your hot chocolate and a delicious pastry to go along with it before you head off to explore more of the city!
Not a fan of hot chocolate?
That's fine.
There are tons of great crêperies and/or coffee joints. Indulgence is only a few euros away. The key point is to enjoy your morning, discuss life, and take a break from the hassle outside.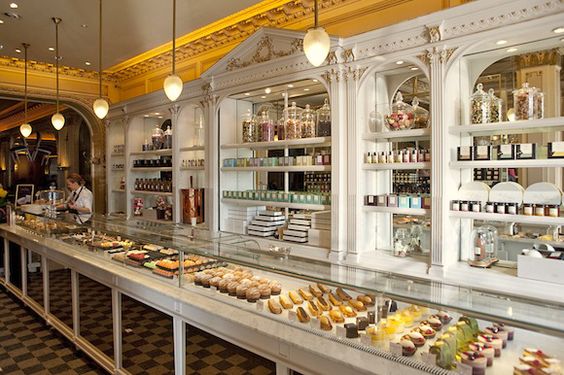 Window Shop at the Palais Royal
Is any trip to Paris ever complete without a little bit of window shopping here and there?
To check this off your list, consider heading to the somewhat secret shops of Palais Royal – not too far from the before mentioned hot chocolate haven – where you will find an array of high end boutique shops perfect for window shopping.
What sets this shopping experience apart from others is the certain feel the shopping arcades surrounding the gardens give off; it is as if you have just stepped back in time about 200 years ago and are experiencing what shopping was like back then! Admire the fine jewelry, feel the famous gloves of Fabre, and try your hardest to resist spending all of your pennies here.
If you do want to spend money, consider checking out Le Marais filled with just as charming yet more affordable boutiques and shops.
Likewise, I enjoyed the shops and boutiques around Les Halles.
Paris is an expensive city, but the prices pale in comparison to New York and London. Just be smart with your money and above all, have fun.
Enjoy a Park Picnic Like the Locals
After you have done your fair share of shopping and browsing, satisfy your worked up appetite just like the locals do…at a beautiful park. Head to a nearby market where you can pick up a baguette, some meats and cheeses, and of course a bottle of French wine and find a lovely park with some space to enjoy your food and watch the world pass you by.
Some of the best known spots to do just this include Champs de Mars if you are looking for a good view of the Eiffel Tower, the Luxembourg Gardens if you enjoy plenty of space and natural beauty, or Parc des Buttes-Chaumont if you want a more off the beaten path feel.
But what if the weather is crummy, John!
That's fine, there are endless places to eat around Paris. As you walk around Paris, most restaurants will display their menu from the street. Examine it and the prices. You might find a "fixed menu," which is a multi-course meal for a set price. This is usually a good deal and you'll get to experience more of authentic eating experience.
I enjoy the Chez Marcel, Les Deux Cigales or Le Café Charbon. There are COUNTLESS other restaurants that I loved, although I only remember their approximate location within the city. So the morale of the story? Leave your comfort zone and try something new.
Visit the Lesser Known Museums
Although museums such as the Louvre and Musee d'Orsay are fantastic in and of themselves, sometimes it's best to get away from the most popular touristy places, away from the crowds, and head out on an exploration of just as noteworthy and notable places.
If that interests you, then pay a visit to the Salvador Dali Museum with its unique exterior and even more interesting interior filled with some of his best drawings, sculptures, and even some of his clocks and watches. Other options would be the Fun Fair Museum, The Fairground Art Museum, Museum of the Sewers, and the Edith Piaf Museum.
I wrote an extensive guide on visiting Le Louvre if that interests you.
Take in the Views from the Montparnasse Tower
After an exploration of the city by day, it is time to see why it is really called the City of Light by making your way to the Montparnesse Tower. Boasting panoramic views of the entire city, you will get to see the twinkling light of the Eiffel Tower from a whole new perspective atop one of Europe's tallest buildings. This will undoubtedly be the perfect ending to the perfect day in Paris and something you will surely not soon forget.
Other Ideas?
In the winter, go ice skating right off the Champs-Elysées. In the summer, enjoy Paris' concerts, festivals, and open air markets. You can visit the Catacombs or take a bike tour… even take a short trip to visit the Palace of Versailles.
When people visited me in France, I always showed them a good time.
So get creative and step out of your comfort zones – that's how you experience an unforgettable time in Paris.
What types of things do you enjoy in Paris? How would you spend your day in Paris? Share them in the comments below and I'll consider adding it to the list!
___
Check out more of our awesome tips on visiting Paris.
Also, don't forget to share and bookmark our Paris metro guide or LIKE FrenchCrazy on Facebook to stay up-to-date!