Voilà un extrait de Madame Bovary, 1857, Troisième partie, chap. VIII. I describe the scene in English below.
Background Information:
[Endettée et craignant que son mari n'apprenne son infidélité, abandonnée de tous, Emma se suicide en avalant de l'arsenic. L'écriture de cette agonie a coûte à son auteur de grandes souffrances : il a observé de moribonds dans un hôpital, a goûte de l'arsenic et a cru mourir lui-même en tuant son personnage.]
Extrait: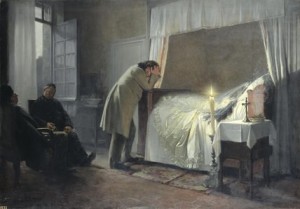 Cependant elle n'était plus aussi pâle, et son visage avait une expression de sérénité, comme si le sacrement l'eût guérie. Le prêtre ne manqua point d'en faire l'observation ; il expliqua même à Bovary (le mari d'Emma) que le Seigneur, quelquefois, prolongeait l'existence des personnes lorsqu'il le jugeait convenable pour leur salut ; et Charles se rappela un jour où, ainsi près de mourir, elle avait reçu la communion. "Il ne fallait peut-être pas se désespérer", pensa-t-il.
En effet, elle regarda tout autour d'elle, lentement, comme quelqu'un qui se réveille d'un songe ; puis d'une voix distincte, elle demanda son miroir, et elle resta penchée dessus quelque temps, jusqu'au moment où de grosses larmes lui découlèrent des yeux. Alors elle se renversa la tête en poussant un soupir et retomba sur l'oreiller.
Sa poitrine aussitôt se mit à haleter rapidement. La langue tout entière lui sortit hors de la bouche ; ses yeux, en roulant, pâlissaient comme deux globes de lampe qui s'éteignent, à la croire déjà morte, sans l'effrayante accélération de ses côtes, secouées par un souffle furieux, comme si l'âme eût fait des bonds pour se détacher. Félicité (la servante) s'agenouilla devant le crucifix, et le pharmacien lui-même fléchit un peu les jarrets, tandis que M. Canivet (un médecin) regardait vaguement sur la place. Bournisien (le prêtre) s'était remis en prière, la figure inclinée contre le bord de la couche, avec sa longue soutane noire qui traînait derrière lui dans l'appartement. Charles était de l'autre côté, à genoux, les bras étendus vers Emma. Il avait pris ses mains et il les serrait, tressaillant à chaque battement de son cœur, comme au contrecoup d'une ruine qui tombe. À mesure que le râle devenait plus fort, l'ecclésiastique précipitait ses oraisons ; elles se mêlaient aux sanglots étouffés de Bovary, et quelquefois tout semblait disparaître dans le sourd murmure des syllabes latines, qui tintaient comme un glas de cloche.
Tout à coup, on entendit sur les trottoir un bruit de gros sabots, avec le frôlement d'un bâton ; et un voix s'éleva, une vois rauque, qui chantait :
Souvent la chaleur d'une beau jour, fait rêver fillette à l'amour.
Emme se releva comme un cadavre que l'on galvanise (animé d'une énergie soudaine), les cheveux dénoués, la prunelle fixe béante.
Pour amasser diligemment, les épis que la faux moissonne, ma Nanette va s'inclinant, vers le sillon qui nous les donne.
"L'aveugle !" s'écria-t-elle. Et Emma se mit à rire, d'un rire atroce, frénétique, désespéré, croyant voir la face hideuse du misérable, qui se dressait dans les ténèbres éternelles comme un épouvantement.
Il souffla bien fort ce jour-là, et le jupon court s'envola !
Une convulsion la rabattit sur le matelas. Tous s'approchèrent. Elle n'existait plus.
___________________________________________________________________
Flaubert spares us no expense, giving us a good look at the biological effects surrounding the agonizing death of Emma Bovary. During this extrait, the author mocks both the church and crazy science goers. Early in the passage, we see Flaubert wrote "the priest did not fail to mention Emma appearing to look healthier after receiving the sacrament". Flaubert does not target the beliefs of Jesus Christ, but rather the people who claim to serve Christ – the following sentence depicted that the priest was "selling" his religion while at the same time competing against the sciences (the doctor and pharmacist were both present in the room).
As Emma is dying, we get a glimpse of what everybody around her is doing. The priest launches his latin words at her, the servant (who is very religious) bows before the crucifix and starts to pray. The doctor watches the scene unfold motionlessly, and the pharmacist gives a less sincere prayer (he does not believe in god). Charles is there on his knees, holding his wife, on the verge of stress (this shows that Charles truly loves Emma).
Finally, we hear the blind man singing from outside the room. The juxtaposition of the two places (interior and exterior) add a different feel to the scene. Emma detests the hideous, disfigured, blind, old man – it's a shame the last thing she experienced was his dreaded song. The song, a French country tune, described how the beautiful girl would bend over to harvest the ears of corn remaining after the harvest; a large gust of wind would pass by, lifting her skirt up. This vulgar song reflects somewhat upon the adulterous life of Emma, what are the chances that the old man happened to be singing it?
Well there's my quick analysis of the text! Any comments can be made below, no subscription require.
To return to our French Literature Section, please click HERE.