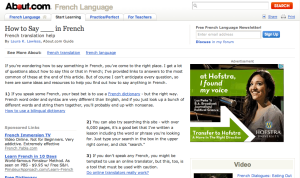 About.com's classic ad-filled pages
Thousands of definitions, conjugations, and useful "how to" guides makes this site one of the best language resources for French students at any level. The French domain is run by Laura K. Lawless, a long time dedicated learner of the French language. Updated daily, Laura also created many articles about the French culture, French cities, and French lifestyle… Hmmm, sounds a bit like this blog now that I think about it.

On a daily basis French.About provides us with:
A French lesson of the Day

A French quiz of the Day
Need help with the confusing mess of the French Subjunctive?
Need to find out what Estival means?
Need to learn the difference between y or en?
Need useful French vocabulary at the airport?

IT'S ALL THERE. Simply use the search feature and I'm sure Miss Lawless wrote about it. Please share any of your thoughts or experiences with this website below…

About.com's French Language Site is the best online resource ever.

To check out french.about.com, click HERE.
To return to our online resources menu, click HERE.