The 2018 FIFA World Cup is the 2nd time France has won the FIFA World Cup out of three total World Cup Final appearances (1998, 2006, 2018). But how did it happen? And what made the French squad so strong?
We'll discuss this today, starting with a quick rundown about how France was able to win the 2018 FIFA World Cup.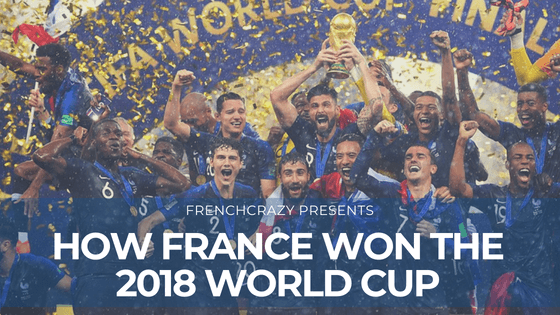 Rundown of All 7 Games:
France was placed into Group C and advanced to the knockout stage after a 2-1 win over Australia, a 1-0 win over Peru and a 0-0 tie against Denmark. The one point gained from the Denmark tie allowed France to claim first place in their group.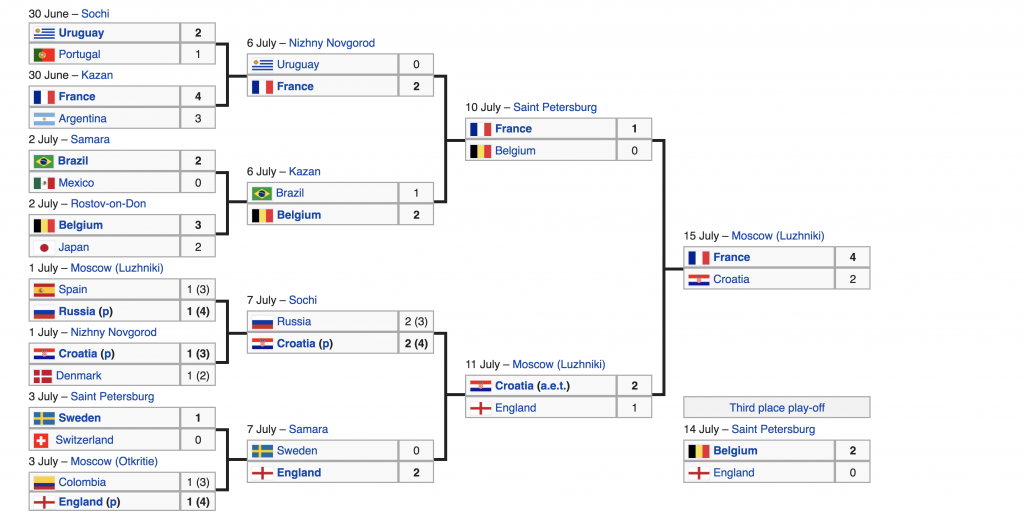 France's first knockout opponent would be tough – Argentina. This is the squad with the world-renown midfielder, Lionel Messi, who just came off of scoring 3 goals in the last match. Yet the pinnacle of France's play came out in a 4-3 win over a struggling Argentinian squad.
The French National Team took an early lead in the 13th minute with a penalty kick earned by Mbappé and executed by Griezmann. However les Bleus soon found themselves down 2-1 before the 50th minute.
It was only after an equalizing strike by Pavard (to tie the game 2-2) when the French team came alive. Excellent play by Mbappé, Pogba, and Griezmann sealed the deal. Mbappé, the young 19-year-old French star from French club Paris-Saint-Germain, score back-to-back goals in the span of 4 minutes.
France-Uruguay-Belgium:
Against Uruguay, France was able to score two and subsequently defend against the following Uruguayan attacks.
France vs Uruguay highlight video:
The following Belgium-France semifinal had a bit less flare. The Belgium National Team was coming off of a 24 game win streak. The team is hailed as Belgium's Golden Generation, aka the most skilled team that Belgium has ever fielded.
The French central defender, Umtiti, managed to head one in between the goal posts off of a set-piece. France advanced to the final on a 1-0 win over Belgium. The Belgian team would go on to win 3rd place in the tournament after defeating England 2-0.
France vs Belgium highlight video:
The World Cup Final:
France was pitted against an underdog Croatian national team. However, even I was afraid of what the Croatians could do. I likely knew they would score at least two goals in the game. France would have to score early on to put them on their heels if they wanted a chance.
The first 15-20 minutes were very much dominated by Croatia. But both teams were trying to find their rhythm. France took a 2-0 lead after a "controversial" foul resulted in a score for Griezmann, followed by a Croatian handball in the box which was confirmed by video review.
Through a series of events, Pogba and Mbappé would dish out two more goals for the French side. The game terminated 4-2 with the French side ultimately prevailing. The 32-day tournament filled with upsets and misgivings finally came France's way.
The Celebration:
Soon after, you'll realize that Football is more than what happens on the field. Football is trans-generational and transcultural. Thousands of fans lined the streets of Les Champs-Élysées, starting at 9AM… they awaited the tour bus with the champions which wouldn't drive down the street until 7:30 PM.
Through the spectacle, flares and smoke filled the street. Horns sounded. Fighter jets flew over the Arc de Triomphe leading a trail of blue, white, and red smoke. Two sets of four fighters soon followed, symbolizing the two stars that signify the two World Cup victories on the French jersey.
#FRA #WorldCup pic.twitter.com/XJJCJmdH8b

— Jonathan Johnson (@Jon_LeGossip) July 16, 2018
The tour bus travelled towards the residence of the French President, where their family members, hundreds of excited kids, and various political officials awaited for a garden party. The players donned custom-made blue suits for the occasion of being welcomed by French president Emmanuel Macron and his wife Brigitte.
How France's Squad Won the World Cup:
France never always knew success at sports. In the 1970's, France systematically created an organization to manage youth talent. Thirteen year olds with French citizenship could apply for their region's Football Academy. This very system developed talent for France's first World Cup win in 1998.
As football became evermore injected into French culture, the system continued to churn out superstars, such as Kylian Mbappé, the Parisian who helped lead France to the 2018 World Cup.
Throughout the tournament, France had good resilience while on the defensive. But France's main success came from dangerous set-pieces, key penalty kicks, and an overall threatening offensive component. Once historically heavy-weight teams like Brazil, Germany, and Spain were eliminated from the tournament, France's prospects looked even better.
While Giroud played more of a supportive role throughout the tournament, the other forwards/midfielders such as Griezmann, Pogba, and Mbappé managed to dissect the opponent's lines and score enough goals to make it possible for France. Particularly Mbappé who would reach speeds of 21 mph while on some of his runs.
The French team was able to attain 4 goals in two separate matches.
Another key component to the win was French Coach Didier Deschamps. Coach since 2012, Deschamps is the 3rd person in history to have won a World Cup as both a player and a coach. He utilized a 4-2-3-1 formation and made key substitutions when necessary.
As President Macron said during the celebration, "Do not change anything about this team."
Congratulations on France's 2018 World Cup win. Congratulations to France's second star. Here's to a third!