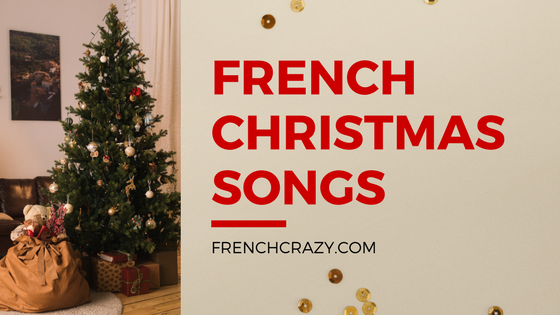 Merry Christmas and welcome to FrenchCrazy. Tis' the season, n'est-ce pas? Singing songs and carols during Christmas always makes the holiday much more joyous. Hence, I decided to compile a couple of popular French Christmas songs. Some are based off of an English counterpart, while others are purely French.
1. Les Anges dans nos Campagnes
This famous Christmas song goes by many names (O Come all Ye faithful, Come let us Adore Him, Angels We have Heard on High, or Gloria in Excelis Deo). Simply click on the video and you'll recognize the tune. It's sung beautifully by a French Christmas choir.
2. Oh Christmas Tree: Mon Beau Sapin (French version)
To start this festive post, you'll first hear a wonderful rendition of the famous Christmas song Oh Christmas Tree. In French it's titled "Mon beau Sapin" or "My Beautiful Fir". This particular version is sung by Muriel J.
3. French Christmas Classic:
Il Est Né le Devin Enfant
Next up, I want to share another French Christmas song called Il Est Né Le Devin Enfant which celebrates the birth of Jesus. This French song does not have an English equivalent, thus it is purely a French classic!
4. French Jingle Bells
The French do have a version of Jingle Bells in French titled "Vive Le Vent", or "Long Live the Wind". I also know of another Jingle Bells equivalent called "Tintez Cloches" but I cannot find it anywhere.
5. L'enfant au Tambour
"The Little Drummer" boy also converts nicely into French. This Christmas classic is well known due to the boy's incessant drumming. Without future ado L'enfant Au Tambour.

6. French Christmas Song:
Petit Papa Noël
Petit Papa Noël is a Christmas song describing the little children in their anticipation for Saint Nick to descend from the sky to deliver Christmas cheer. The children acknowledge how cold it is outside and understand it's their fault.. Hence they warn Santa to stay warm during the second verse.

7. A French Classic: Quand le Père Noël Vient me Visiter
Finally, the last video I want to show is a song that isn't know in English. This French Christmas Classic "Quand le Père Noël Vient me Visiter" (When Santa comes to visit me), is both childish and merry. It essentially describes what Santa is wearing on his visit and adds in a bunch of "Ho-Ho-Ho's" to make the song more legitimate.
The video production quality isn't the best, but it does feature lyrics.

There are a few more French Christmas songs not listed here due to space constraints within this post, or because I could not find on the internet. Douce Nuit Sainte Nuit (Silent Night), Roudolphe Etait un Renne (Rudolph the Red-Nosed Reindeer), Petit Papa Noël, and Le Marche des Rois, are just a couple songs that you might be interested in hearing.
Nonetheless, I hope you enjoyed the Christmas songs above!
Merry Christmas to all :)