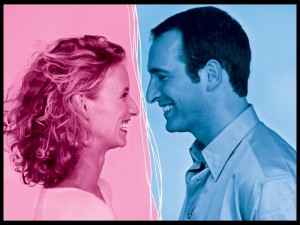 Un Gars Une Fille
Un Gars Une Fille (A Guy a Girl) is a popular French comedy series that ran on the National French TV channel France 2. The show began in 1999 and eventually it would pull in a third of France's TV population (5-7 million) during the time slot it aired in!
Un Gars Une Fille revolves around a French couple, Jean and Alexandre, and how they acts in often very normal situations. Some skits for example: "Un Gars Une Fille Shopping de Noël" (Christmas Shopping) show us the absurdities and indecision involved in Christmas Shopping. The chemistry between Alex and Jean is so heart felt that you forget they are acting. After several years of pretending to be husband and wife, the two stars "blended reality with fiction". Jean and Alex both left their significant others and married in 2003.
The show's format consists of short skits running anywhere from 5-7 minutes long; this probably contributes to the popularity factor because many jokes are made in such a short time. In addition, the skit stays fresh and is not overplayed to the point where something doesn't become funny. I really enjoy the theme music, the common jokes, and the relatable predicaments.

Advantages to Your French
Let me add that there is an advantage to watching these short clips… First, you are exposed to native French speakers. Secondly, you can use a lot of context clues while watching the videos, so you may not know every word that is uttered but you can get a good idea of whats going on from the actions throughout the skit. Lastly, you can rewind or replay the skit as much as you want – this helps if you missed something crucial to the joke.
Here's one of the skits from Un Gars Une Fille Chez Le Bijouterie… Alex and Jean are looking at several rings and necklaces throughout the day. In one of the skits, Jean gets Alex a box and the anticipation kills Alex as she opens it to see what's inside. When she finds the box empty, her husband tells her that the box is the gift! In the last skit, Alex accidentally swallows a very expensive ring. Her husband then desperately tries to force it out, even awkwardly holding her upside down to extract it. I laughed pretty hard the first time I saw this.
Below is another video I found. They are awesome videos!
You can purchase all the discs from Amazon.fr, shipping to the United States costs roughly $15-$20. Here's the link: Un Gars Une Fille Integrated 7-DVD Set. You can also find several videos online, however due to copyright laws I think that Youtube constantly deletes the majority of videos posted.