France is the home to some of the best red wine varieties across the globe and French red wines are considered a benchmark for international wine producers. France is a wide country with wine regions stretching from North to South. This allows French wine makers and grapes to experience and experiment with different soils and climates.
In this article, we are going to discuss the best French Red wines, go through the most important grape varieties used for French wine and lastly talk about French red wine pairing.
French Red grape varieties
Grapes have been grown in France sine the Romans realized how suitable the soil was, and possibly centuries earlier than that. During the Middle Ages a new system of land development meant that more areas of the countryside were given over to wine production and the country's wine industry reached a period of prosperity.
Several French red grape varieties are acclaimed internationally. Cabernet Sauvignon, Merlot, and Syrah are only some of the most important. And these grape varieties can now be found from the US to Australia.
CABERNET SAUVIGNON
Cabernet Sauvignon is probably the most popular red grape variety as it produces a high-quality and elegant red wine with an incredible aging potential.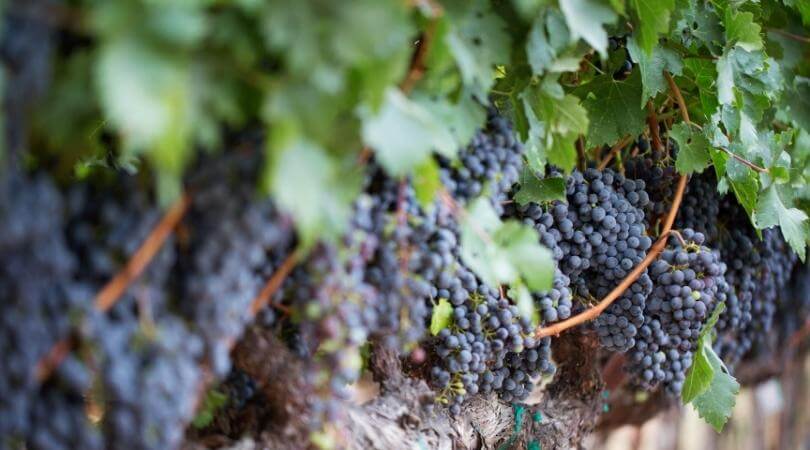 Wines produced from Cabernet Sauvignon tend to be high in tannins and acidity, with black fruits aromas like blackberries and plums combined with greenish notes of tomato leaf and red pepper that will integrate due to the aging process.
These wines are commonly aged in oak to smoothen the tannins while adding vanilla and smoky flavors to make the wine even more complex.
MERLOT
Merlot is the second most important red grape variety from France and helps produce some of the finest wines of the entire world. This variety is also called a "sugar factory" because it is early-ripening and produces high amounts of sugar – especially in warm to hot climates.
Wines produced from Merlot tend to have an high alcohol content and overall smoothness. It is characterized by ripe fruity aromas of redcurrant, cherries, plums and cinnamon.
Merlot is often blended with Cabernet Sauvignon to smoothen the high tannins and acidity of this grape variety, helping with its fruitiness and high alcohol content.
Pinot Noir
Finally, the Pinot Noir grape variety is one of the most planted red grape varieties in the world. It originates from France, likely from Burgundy.
It is considered as one of the most elegant red grape varieties and it is able to produce long-living wines that can easily age for more than 30 years.
Pinot Noir wines tend to have a pale red ruby color, with high yet integrated tannins and a complex aromatic profile: red fruits and sweet spices if drunk young. Aged Pinot Noir displays mushroom, smoke and plum aromas, and further complexity.
Bordeaux Region
Dry red wines from Bordeaux represent the apex of the red wine production of the entire world. These wines are able to sustain an aging process that can easily exceed 40 years.
The so called "Bordeaux Blend" is made up of Cabernet Sauvignon, Merlot and other indigenous red grape varieties in small percentage, just like Malbec and Petit Verdot.
As already mentioned, the blend between Merlot and Cabernet Sauvignon creates the perfect balance because the Cabernet Sauvignon brings tannins, acidity and powerful black fruit aromatics, while Merlot brings alcohol and smoothness balancing the complexity of the Cabernet Sauvignon.
These red French wines often age in new French oak barriques (225L barrels), in which the wine has the time to smoothen its tannins, integrate the different flavors and becoming more and more complex.
The finest and most expensive of these are the red wines are from the great châteaux found in the Haut-Médoc area and the Right Bank appellations of Saint-Émilion and Pomerol (see locations below).
Haut Medoc is characterized by a predominance of Cabernet Sauvignon vineyards. The soil in the Haut-Médoc region is mainly composed of thick gravel layers that have been swept down river over time and now sit on a base of heavy clay. The warm, well-drained gravel terraces provide ideal growing conditions for the late-ripening Cabernet Sauvignon grapes.
Further inland, on the Right bank, the soils turn to deep deposits of clay. The Merlot grape variety thrives in such places.
In recent decades it has largely usurped Cabernet Sauvignon in these parts of the Médoc. Patches of limestone and sandier soils add diversity to the more widely spread gravels, which otherwise dominate the terroir.
Unlike the wines of the Médoc that are focused on Cabernet Sauvignon, Saint-Émilion wines are predominantly made from Merlot and Cabernet Franc. The clay and chalk rich soils around Saint-Émilion are generally cooler than those on the Médoc peninsula and are less free-draining (they keep much more water), and are less capable of ripening Cabernet Sauvignon reliably.
Merlot makes up around two thirds of vines planted around Saint-Émilion, and continues to increase in popularity because of the softer, more approachable wine styles it produces.
Burgundy Region
Burgundy red wines represent a completely different style compared to the Bordeaux ones thanks to the elegance of the Pinot Noir grape variety.
Burgundy is located inland, far from the coast, and it has a specific climate that creates the ideal conditions to grow this grape. Here, we find a moderate continental climate with dry and warm autumns that help to grow fully the bunches of Pinot Noir.
The best quality red wines from Burgundy are produced in the Northern part of the regions, called "Côtes de Nuits." Burgundy is home to some of the highest-quality and most expensive wines of the world such as Domaine de la Romanée-Conti, where a bottle of this red wine ranges in the tens of thousands of dollars to obtain.
Wine production in Burgundy operates in three distinct ways:
The first is through negoçiants, who buy the grapes or wine from several smaller producers and sell it under their own names.
The second is via co-operatives: organized groups of grape-growers who pool their resources to establish a winery for collective use.
The third method involves wine producers who own both the vineyards and their own winery.
Red wines from Burgundy produced from Pinot Noir are often aged in oak barrels and they tend to have an incredible aging potential, just like the Bordeaux wines. The tannins of Pinot Noir help the wine to maintain its fruitiness, balanced by the tertiary aromas of mushrooms and forest floor developed during the aging process.
Other varieties and terroirs
Another key French region is Rhone Valley, where Syrah and Grenache find their homeland. These are two of the most popular red grape varieties, grown all over the world from Australia to South Africa.
Syrah is often grown in the Northern part of the Rhone Valley, where the climate is cooler with higher rainfall levels. Syrah from this regions produces wines with dark ruby color, high tannins and black fruit aromas combined with a clear dark pepper note.
On the Southern side of the Rhone Valley Grenache is widely grown, here the climate is drier and warmer and it is ideal for a late-ripening variety such as Grenache. Wines produced from Grenache tend to be smooth, with high yet integrated tannins and red fruits aromas.
For all these reasons, these two grape varieties are often blended together to create a balanced and long-living wine.
Other indigenous grapes from this area are often blended, just like Mourvedre, Cinsault and Cabernet Sauvignon. Rhone Valley blend is often called GSM, an acronym found on the label, that simply means Grenache-Syrah-Mourvedre, the three main grape varieties of the blend.
Then, smooth and balanced red wines are produced in the warm wine region of Provence, where the Mediterranean climate helps Cabernet Sauvignon and Merlot grapes to ripen fully to produce high quality red wines that don't need a long aging process. Traditional varieties such as Carignan, Barbaroux and Calitor has been replaced by more commercially viable grapes like Grenache, Syrah and the already mentioned Cabernet Sauvignon and Merlot.
Best French Red Wine & Food Pairing
Powerful and tannic red wines from Bordeaux, but also GSM or single variety Syrahs from Rhone Valley, are perfectly suited for meat recipes in general.
Bordeaux aged red wines are ideal to be paired with wild animal meats such as wild boar or deer meat.
The Bordeaux wines go well with braised and slow-cooked meat, thanks to the tannins that balance the smoothness and the fattiness of this style of recipes.
Thanks to the elegance of Pinot Noir, it can easily be paired with gourmet recipes found in Michelin-starred restaurants. Pinot noir has high, yet smooth tannins, elegant red fruit flavors that pair nicely with fatty fish recipes or with salmon or grilled tuna, representing a versatile choice for the chef or the sommelier.
The food and wine pairings obviously change with the aging of the chosen wine. In fact, a young French red wine tends to be high in acidity and tannins – perfect to be paired with fat foods that will be balanced by the wine. Conversely, long aged red wines can be paired with gourmet dishes that don't exceed in fat or in smoothness, helping to enhance the balance of the dish itself.
Conclusion
I hope this article addressed the Best French red wine varieties and help you understand some of the best red wines that France has to offer. Now for the fun part – going to try and sample some of them until you find a handful of personal favorites.
To learn more about French Red Wines and French Wine pairing, check out our French Food & Wine page.